REASSESSING THE THREAT POSED BY PINEWOOD NEMATODE (BURSAPHELENCHUS XYLOPHILUS) TO UK FORESTRY: EXPLORING ALTERNATIVE VECTORS AND NOVEL DETECTION TOOLS
T. Whitham, J. Ryalls, L. Bell, M.L. Inácio, R. Girling, T. Prior, M. Correia, A. Platoni, M. Blake, L. Bonifácio, S. Facey
IUFRO International Symposium on Pine Wilt Disease "PWD2023"
Book of abstracts, pg. 7, 25-28 October 2023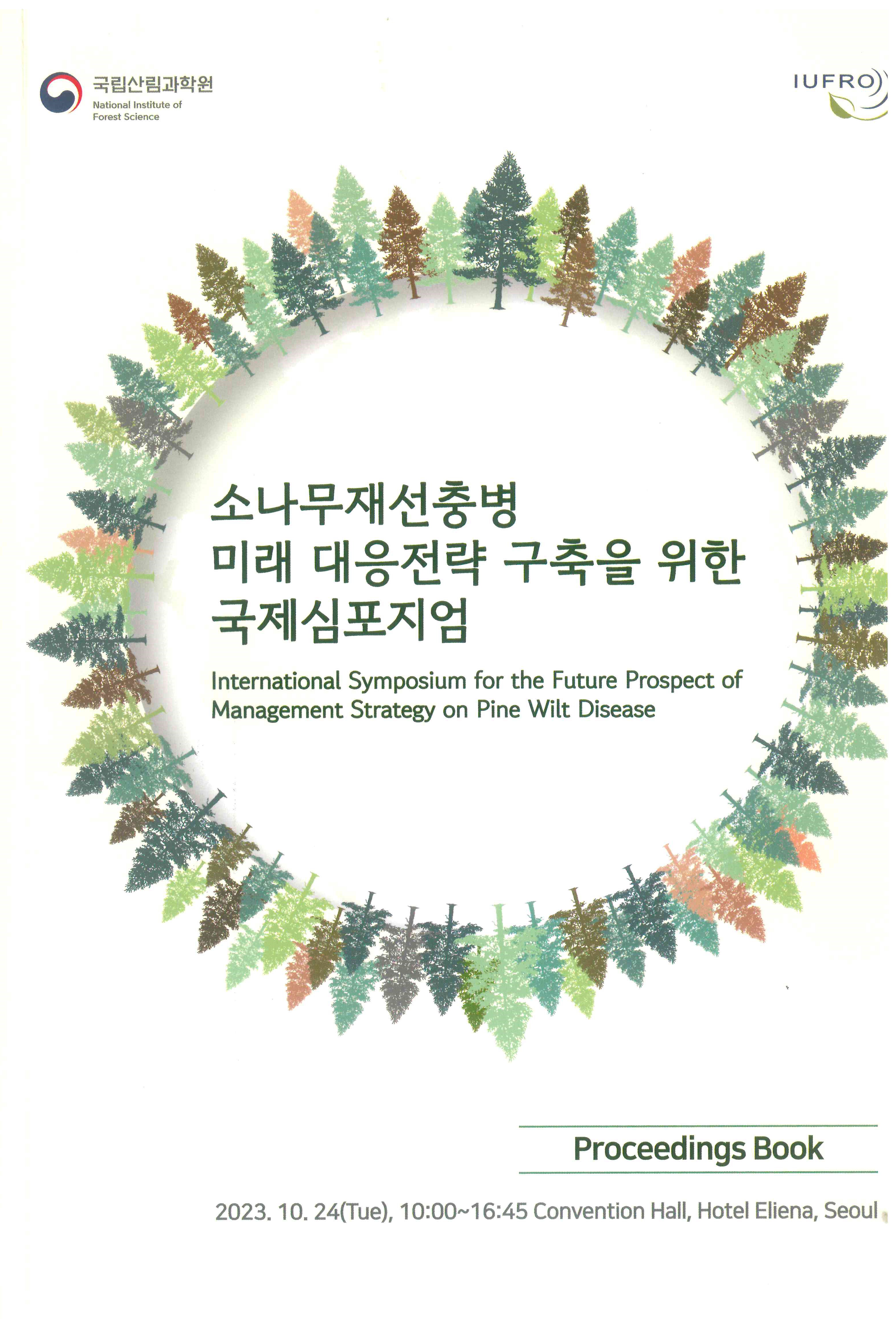 CURRENT STATUS AND MANAGEMENT STRATEGY ON PINE WILT DISEASE IN EUROPE
Luís Bonifácio, Edmundo Sousa, Pedro Naves, Maria L. Inácio, Telma Ferreira & José M. Rodrigues
International Symposium for the Future Prospect of Management strategy on Pine Wilt Disease

Book of abstracts, pg. 8, 10 October 2023

CHEMICAL PROFILE OF THE PINEWOOD NEMATODE FOR RAPID DETECTION
D. Pires(1,2), J.M.S. Faria(1,2), M.L. Inácio(1,3).
(1) National Institute of Agrarian and Veterinary Research, Oeiras, Portugal, (2) Mediterranean Institute for Agriculture, Environment and Development, University of Evora, Mitra, Evora, Portugal, (3) GREEN-IT Bioresources for Sustainability, Institute of Chemical and Biological Technology, Nova University of Lisbon, Oeiras, Portugal.
53rd ONTA Annual Meeting in Cairo, Egypt: "Nematodes and food security: urgency, discovery, and global exchange"
Book of abstracts, pg. 49, September 2023

VOLATILE ORGANIC COMPOUNDS -CHEMICAL SIGNALS TO COMMUNICATE PLANT HEALTHO NEMÁTODE DA MADEIRA DO PINHEIRO: NOVAS ABORDAGENS DE CONTROLO E MONITORIZAÇÃO
FICKE Andrea. (1), ASALF Belachew. (1), NORLI Hans Ragnar. (1)
(1) Norwegian Institute of Bioeconomy Research (NIBIO), Aas, NORWAY , pg. 1278, Agust 2023
International Congress of Plant Pathology (ICPP 2023) in Lyon, France
Book of Abstracts, pg. 1278, August 2023

Attraction of a parasitoid to volatiles of Zambian maize accessions attacked by the fall armyworm.
K. Altermatt, C.M. Arce, G. Roeder, T. Turlings - University of Neuchâtel
Odor sensors to detect and identify agricultural pests for crop protection?
C. Arce, M. Mamin, G. Röder, A. Kanagendran, E. Defossez, S. Rasmann, T. Akiyama, K. Minami, G. Yoshikawa, W. Tan, F. Lopez-Hilfiker, T. Turlings - University of Neuchâtel
Purpest at the Annual Meeting of the International Society of Chemical Ecology in Bengaluru-India
Book of abstracts, pg. 79 and 82, 23-27 July 2023
Martin Pettersson, Gunda Thöming, Andrea Ficke - NIBIO, Gartneryrket, pgs. 10-15, May 2023
Jorge M.S. Faria, Tomás Cavaco, João C. Nunes, Diogo Gonçalves, Cláudia S.L. Vicente, David Pires, Luís Bonifácio, Maria Lurdes Inácio - INIAV, Vida Rural, pgs. 60-65, April 2023